For a small business to remain profitable, it is essential to minimize unnecessary expenditures. In an effort to do so, many businesses opt for break/fix IT support. This follows the on-demand service model, where an IT service provider responds whenever issues arise and then bills accordingly. The alternative is managed services, where IT is taken care of for a flat monthly fee regardless of the amount of work performed. 

At face value, break/fix seems like the more cost-effective solution — why pay monthly for managed IT when there's no immediate need? But the reality isn't so simple. In this article, we'll explore managed services vs break fix IT, including how the reactive nature of break/fix can result in lower performance, greater risks, and higher costs in the end. We'll see that the managed service model incentivizes the prevention of problems instead of profiting from the response.
Reactive vs proactive IT support
Whereas the break fix model deals with issues after they occur, managed service providers take a proactive approach to the health of your IT. To put it in terms of car maintenance, would you rather wait by the side of the road when your car breaks down or get regular inspections to catch issues before they grow into disasters? In the end, prevention costs a lot less than trying to fix something that's already broken. 
The reactive nature of break/fix vs maintenance has a number of disadvantages that have seen its popularity plummet in recent years. These include:
Unpredictable costs.

Since break/fix services are charged on a case-by-case basis, it is impossible to budget for them accurately. This means that when something goes wrong, you need to pay out of pocket or face lengthy downtime. Managed services, on the other hand, require a regular flat fee that covers getting you back on your feet when breakages, downtime, or disasters occur.

More downtime.

When something goes wrong, break/fix clients are at the mercy of their provider's schedule. In contrast, managed service providers are usually bound to fixed response times laid out in their service agreement.

Greater risk.

Break/fix IT ignores the importance of hardware maintenance and system updates and patches in maintaining functionality and security.

Lack of strategy.

Whereas managed service providers can give their clients strategic technology advice, break/fix clients are left to develop and manage their own IT strategy — often without the necessary tools or expertise. 
All of these factors mean break/fix support puts you at a constant disadvantage and is unsustainable in the long term.
IT as a burden vs IT as an asset
The break/fix model makes IT a burden, an expense, and a source of stress. On the other hand, managed services enable SMBs to use technology to their advantage. By partnering with a managed service provider (MSP), business owners gain access to a team of IT experts who stay current with the latest development and can help with IT strategy. 
This may entail carrying out an assessment to identify opportunities for improvement or cost-savings; advising on the best technology to suit your goals and budget; or carrying out proactive maintenance to increase the lifespan of your hardware and the security of your systems. This is a far more sustainable IT service than break fix repair.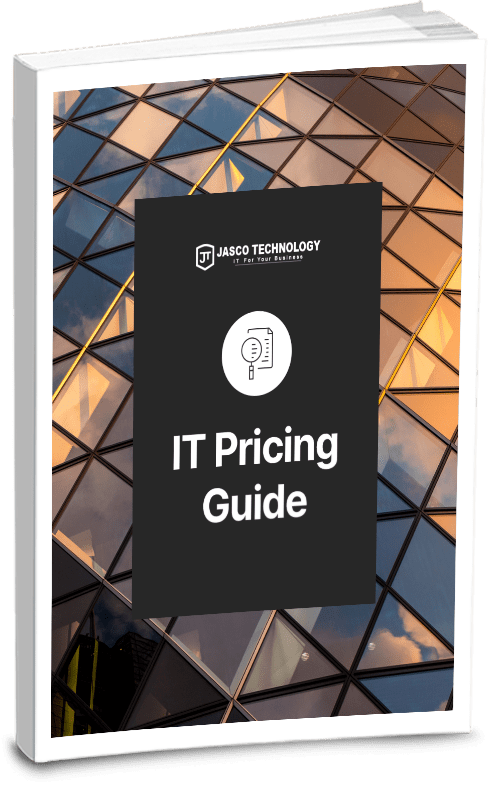 "Pull back the curtain on Managed Services and discover which IT approach is right for your business, and how much it should cost." 
Risk vs security
As business goes digital, cybersecurity is an essential consideration. Since break/fix typically only involves calling in the IT experts when a network goes down or hardware fails, it overlooks safeguarding techniques like monitoring, detection, and prevention. This puts the break/fix client at significant risk compared to the managed services client, who typically enjoys proactive security and round-the-clock monitoring.
As cyber criminals are targeting SMBs more frequently and with increasing sophistication, your cybersecurity should never be left to chance. If you are still relying on break/fix IT, by the time you suffer a breach or data loss event, it will be too late — you will be liable for downtime, fees, ransomware, reputational damage, and more. 
A managed service provider will reduce your vulnerability to cyber attacks by taking a holistic approach to security. On top of next-gen firewalls, antivirus software and antimalware, an MSP will employ endpoint detection and response tools to actively protect your data and systems from emerging online threats. They will also counteract the risk of user error with solutions like enhanced login protocols and employee security awareness training.
Since attacks can never be completely avoided, it is important to be prepared. MSPs can arm you with a business continuity and disaster recovery plan. This plan will enable you to react quickly in the event of a disaster or breach, therefore minimizing its spread and damage. 
Ready switch to managed services?
If you're ready for predictable, secure IT that helps you reach your business goals, Jasco Technology is here to help. With our Managed IT Services, you'll be supported by a team of IT and cybersecurity experts for a flat monthly fee. 
Contact us for a free consultation to see how our managed services can benefit your business.