Deciding how to allocate your IT support budget can be a real challenge. Are break-fix or managed services the right solution for your business? While a reactive pay-as-you-go model might seem cost-effective in the short term, proactive managed services typically provide a more favorable ROI in the long run. In this article, we will explore the cost-saving potential of managed services, from the operational and security benefits to the stabilizing effect of paying a predictable monthly fee.  
The cost-saving benefits of maintenance and security
Break-fix IT services are reactive. This means you only pay when something goes wrong. It also means that by the time help comes, the failure has already happened. However, many IT issues can be avoided with preventative maintenance and security measures. This will invariably be the cheaper option in the long run, especially if the failure impacts business processes or security.
Rather than letting an issue develop until it causes financial and operational damage, managed service providers (MSPs) identify and eliminate problems before they arise. This is achieved through regular systems maintenance, hardware lifecycle management, software updates, data backup, proactive cybersecurity, and comprehensive disaster recovery protocols. As well as minimizing downtime, this will protect your business from crippling, unexpected costs, such as untimely hardware replacements, data loss, and security breaches. 
Budgeting for cybersecurity
Budgeting for cybersecurity is critical for businesses of all sizes. If you rely on break-fix services, you will need to budget separately for security: mitigating the risks exposing your systems and data to attack. Basic monitoring is not enough to protect a business – preventative measures are needed to reduce the chance of a successful attack. Since it is impossible to completely eliminate the threat of a breach, a disaster recovery plan is also essential. Without this, the impact of an attack will be more severe, last longer, and cost more in terms of lost productivity and reputational damage.
Managed services cover cybersecurity in their fixed monthly fee. A basic package will usually include essentials, like 24/7 network monitoring, antivirus software, firewall management, and email encryption. These services can be expanded to include comprehensive cybersecurity features, like network access control, data loss prevention, endpoint detection and response, and security information and event management (SIEM), depending on the needs of your business.
As you can see, managed services is an investment that goes well beyond fixing daily IT issues. It can shield you from the unexpected costs that arise due to poor maintenance and security, thereby future-proofing your business.
The soft savings of round-the-clock support
Most MSPs offer unlimited 24/7 support as part of their monthly package. With a team of IT experts who are familiar with your IT set-up on call day and night, your staff can get help with issues great and small whenever they need it. This will decrease downtime and improve productivity, ultimately ensuring you get the most out of your employees.
When calling IT support means paying for time and materials, as with the break-fix model, your staff may be more reluctant to seek help. If they experience a minor issue, they are more likely to soldier on and create workarounds for the problem than contact support. The resulting drop in productivity will translate into lost time and money, and ultimately less happy employees.
The profitability of IT strategy 
Is your company using the best IT tools available? Would you know if you weren't? As well as offering round-the-clock support, an MSP can guide your IT strategy and offer guidance on how to get the most out of your IT investments.  Rather than being a burden that delivers a poor user experience, IT can become an asset that improves productivity and drives business growth.
MSPs stay up to date on the latest innovations, constantly upskilling and training their own staff so they can better support their clients. They provide access to the tools and expertise you need to leverage the latest innovations in tech, such as AI and machine learning. These can be used to automate time-consuming manual processes, putting time back in your day to focus on more complex tasks.
With a team of experts advising you, you can avoid making IT investments that are incompatible with your existing technology or business goals, and instead strategize your IT spend for the greatest ROI. For example, if you are planning to increase your workforce or enter new markets, an MSP can implement IT solutions that will scale seamlessly as you grow.
Through regular assessments and strategy meetings, an MSP will also measure the success of your IT investments, enabling you to stop spending where you are not seeing the benefit. And by having oversight of your entire IT infrastructure, your MSP can prevent changes from having negative ripple effects and ensure solutions are implemented business-wide. 
The security of predictable budgeting
Being hit with a large, unexpected bill can be disastrous for a business. Technology is always evolving and IT issues are rarely predictable – especially when maintenance, security, and strategy have been neglected. If you are on a break-fix plan and you experience a major server outage or data breach, you will have to pay out of pocket. And, as mentioned earlier, when an issue does arise, it is likely to be of a higher magnitude and cost more to resolve.
Managed services eliminate this unpredictability by charging a flat monthly fee in exchange for a set level of stability and functionality, regardless of what issues occur. This model incentivizes keeping IT secure and operational, therefore minimizing your risk of costly downtime or security issues. 
Through maintenance and strategy, an MSP can prolong the life of your hardware and help you budget in advance for upgrades or platform implementations. This gives you the freedom to budget for other things, without having to worry about surprise IT costs derailing your plans.
An investment in your future
Partnering with a managed service provider is an investment in your business's future. As well as improving day-to-day productivity through innovative technology and proactive support, an MSP can improve your financial and cyber security. By identifying and implementing long-term solutions that are ideal for your unique needs, an MSP will help eliminate technology issues and drive the growth of your organization.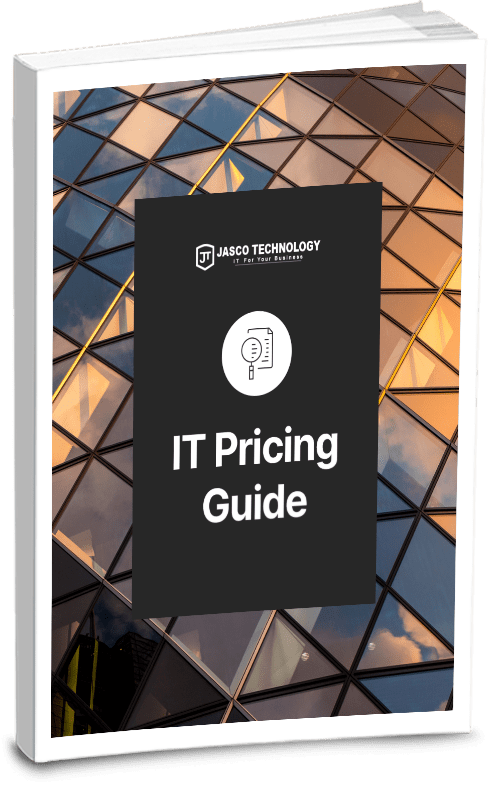 For an in-depth breakdown of IT pricing, download Jasco's IT pricing guide.